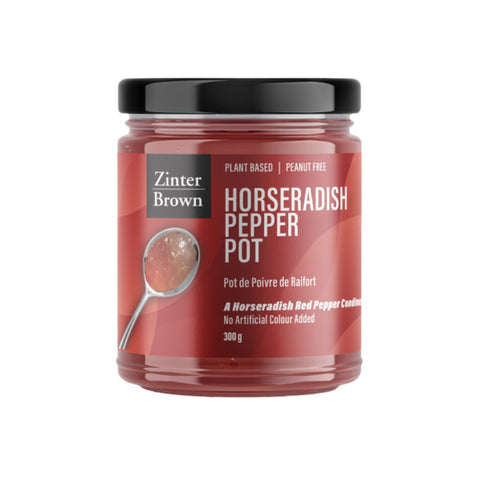 Zinter Brown Horseradish Pepper Pot
Horseradish Sauce Like You've Never Tasted

Zinter Brown Horseradish Jelly Hot Pot is a unique taste infusion of horseradish and their popular Red Pepper Pot. Fresh horseradish, plump red peppers, sugar, water, pectin, vinegar... wholesome ingredients in just the right combination creates a jazzy flavorful condiment.

Add Zinter Brown prepared horseradish sauce to stews or chili. Use as a glaze or marinade on roast beef, lamb or pork. Horseradish dressing incorporates a zesty twist into spreads or appetizers. Every shrimp begs for the company of Zinter Brown horseradish dipping sauce.
300 g glass jar

Checking local availability